"We need to talk."
"Something has changed. "
"It's just not working anymore."
"Maybe we can stay in touch."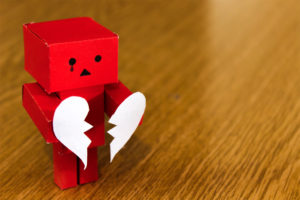 We know what these words mean…they're the first strains of a breakup worthy of tissues, chocolate and regret. Surprise! I have heard them all during resignations and terminations. These statements are made in work relationships as well as personal relationships because well, people are people, so any work relationship is also personal to some degree. And if it's a long-term employee, it can feel almost as emotional as the end of a romance.
You know the scenarios:
She is bored, is looking for a challenge or new experiences that just can't happen in this work situation. Or maybe the dream job with dream salary has presented itself to her. Whatever the reason, this employee has done some self-reflection and has decided to be proactive in finding a better fit with a new employer. She lets you know it's over. Sometimes, you try to talk her out of it. Remind her of the good times, maybe even offer her a raise. Sometimes you realize it really is over, you just can't give her what she needs and it's best for her to move on.
He has been a valued employee for many years. Early on, he was a great contributor. Got to work on time, took initiative, had a positive attitude. But now it's like a Janet Jackson song – "What have you done for me lately?" He's dialing it in, coasting on projects, frustrating you and his co-workers. You try some counseling, meetings to discuss and get an agreement, bring in an HR professional to develop a performance improvement plan (PIP), but still you feel like you're having to drag him, beg him, remind him of why he was so valuable to you in the first place. Maybe he tells you it's you and your unrealistic expectations or he's just having a bad week that has turned into a bad month/year. Maybe he does take some responsibility for his actions and he tries to improve, but only for a short time because really, he's just not that into the job anymore and rather than he admit it and move on, you are being forced to call it off.
Figuring out when it's time for it to be over and then letting go isn't easy. It's okay to feel emotional about it. To be sad, angry, frustrated and even bitter when it doesn't work out. It's important to recognize we are people working with people and all of the stuff that goes along with it. So recognize that it is going to happen. Just like we know we will get our hearts broken occasionally in romance, we will lose valuable employees. The best way to deal with it is acknowledge that it is happening, talk it out with your trusted advisor (which could be your HR consultant), have a plan or get a plan and then ultimately, move forward. There are more fish in the sea and there are more great potential employees out there. I promise.
We are here to help you negotiate the tricky, sometimes icky, but ultimately satisfying world of managing employees.
We work with companies on a project basis or on retainer, providing a custom level of HR help designed for your business, with offices in Austin, San Antonio, Dallas and Houston. Contact me at Caroline@valentinehr.com or call (512) 420-8267.
Save
Save
Save
Save
Save
Save
Save
Save
Save
Save